This really should be one of the most fun parts of your kitchen remodel. Choosing your faucet is where your personality is going to shine through and everyone is going to know this is YOUR kitchen! Here's a few tips to help you chose the right type.
Are you simply replacing an old faucet for a new one?
When your making a quick change you have to keep in mind the footprint of the faucet you are removing. How many pre-existing holes will there be? The single-hole faucet has been increasingly a favorite. In the case where you are going to have un-used faucet holes, a side spray or soap dispenser may be a good feature. Also, many single hole faucets come with something called a "escutcheon" plate. It is a plate the goes at the base of the faucet and should cover the pre-exhisting holes. Check the specs of the plate with the holes you have to make sure this option with completely cover what you have.
Kohler Artifacts with Sidespray
 Moen Noell with Soap Dispenser and Escutcheon
Chose your Spray Feature
You're choses are: Pull-out, Pull-down, Side-spray, Professional Hose-coils, and Hands-free.
A Pull-out is an excellent chose when working with small spaces and a small sink. They don't require the space from the high arc faucets and the pull-down faucet. This tends to be a more traditional option. We see this especially due to the rise in the high arc trending faucets. The pull-out option houses a longer hose and can sometimes be a key feature in manageability.
 Kohler Fairfax Pull-Out
Pull-down faucets are in style and are here to stay! They have clean lines and beauty adding excellent flair to any kitchen. Their high-arc allows them, most of them, a 360 Degree turning radius, so in a large sink, which, again, is all the rage, is remarkable. The functionality of a pull-down faucet is its best feature.
Brizo Venuto Pull-Down
The Professional Hose-Coil Faucet has just recently made its debut into residential kitchens. With the rise of the "industrial" style in home design this is an eye-catching way to bring it into the kitchen. It is considered a high-arc faucet but may have a bit more mobility adding to its functionality.
Moen Align
Choose a Comfort Faucet Height
Now, think about your upper cabinets and how much space you have to work with. Not all setting work with a high-arc faucet. High-Arc faucets are best suited at windows, where upper cabinets are not in the way. Islands are also great place.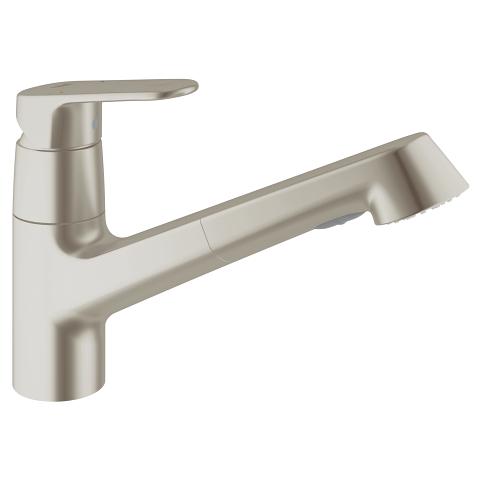 Grohe Europlus
         Delta Trinsic
How Many Handles Are You Looking For?
As we said earlier, you may be working with-in a specific footprint if your simply replacing an existing faucet, but even with that there are options to adjust how many handles you'd like to have on your sink deck. If this is a remodel project or a completely new kitchen and you have the easy opportunity to simply choose anything  you'd like. Many faucets today have just one handle, right at the base of the faucet. When choosing multiple handles the overall design and feel of the kitchen changes tremendously. The options are all pretty great.
 Kohler Antique Two-Handle Faucet
Moen Etch One-Handle Faucet
A very useful feature that seems to be making headlines is the "Touch to Operate" faucets. These are typically battery operated and very easy to maintain. Me being a mother and doing a lot of cooking and getting dirty, I can see a huge benefit to this. I am also a bit of neat-freak so this would assist in keeping my faucet cleaner! One less thing for me to have to clean up!
Delta Essa featuring Touch2O Technology
Chose a Finish
The most popular selections in finishes are Chrome, Brushed Nickel, and Oil-Rubbed Bronze. Other colors coming into play are Polished Nickel, Black, and Brass. Keep in mind when selecting these finishes that most faucest will differ in price depending on the finish, with Chrome typically being the lease expensive option. Also, I  have mentioned finished names but most manufacturers name those finishes slightly different!
A finish can really add to a theme and style of a kitchen.
**these colors are based on Delta colors
For me, chosing the faucet in a kitchen remodel is one of the most important things. Its one of those details that can really add the extra pizzaz to your kitchen, so, choose wisely! Hope this helps you narrow down your options! If  you need any help, let me know!
SaveSaveSaveSave
SaveSave
SaveSaveSaveSave
SaveSave
Hey ya'll! I never really quite understand where the design trends come from on a year to year basis. I mean, shouldn't design be based on your own style? and needs? and wants? Today, we like to spend our money wisely. So, following "trends" seems to be somewhat pointless!
BUT, I will say, today's trends are TIMELESS and PRACTICAL! Most of them at least! Here's a list of what 2018 will bring in Kitchen Trends:
Quartz Countertops
Quartz, has recently made quite a comeback. While Granite and Solid Surface and Marble are still top contenders, Quartz provides the most benefits in our busy, crazy, hectic lives. It is a man-made engineered stone made of 90% ground quartz (a natural hard mineral) and 8-10% resins, polymers, and pigments.
It's properties combined make for a very hard stone, harder than granite and marble. This makes it a Durable, Scratch resistant, Stain resistant, and Chip resistant option.
Quartz is maintenance free! There is no need for regular sealing like Granite or Marble. All you need is a little warm water and mild soap to wipe your surface off.
This stone is also Non-porous and Non-absorbant, so it won't draw in moisture from raw or left-over foods which can harbor harmful bacterias.
Below are our Favorite Brands: LG Viatera, Cambria, Daltile One Quartz
Accessories, Accessories, Accessories
The best kitchen design is one that takes best advantage of every inch of space. Organization and "work flow" is key! The kitchen is the most used room in the home. Everyone in your home uses it in some way, every day. It can be used as a place of gathering, a place for study and homework, sometimes it is even used as the dining room. Below are some accessories that help make the kitchen more successful!
Double Drawers
Double Cutlery Drawers
Corner Drawers
Blind Corner Accessories
Under Sink Drawers
Swing-up Mixer
Filler Accessories – used for spice racks, towel hangers, even knife blocks!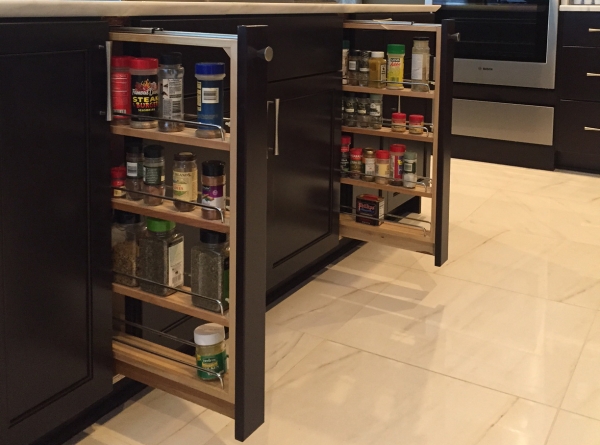 Tall Pull-Out Pantry Systems
The are so many more amazing options. The ones above our favorites!
Grey and/or Navy Cabinets
While a white painted kitchen is certainly going to stay on trend with its clean and bright appearance, Grey has certainly played a big role in the past couple years. It will maintain its strength, but Blues, primarily Navy Blue, is going to be sneaking in, and I am totally on board with this! Navy Blue is classic! I am just dying to have customer tell me they are wanting Navy Cabinets.
Most even cabinet company will custom match any paint color so you can get a custom kitchen look. At Creative Kitchen and Bath we carry 3 lines of cabinets: Bishop Cabinets, Crystal Cabinets, and Brighton Cabinetry. We certainly welcome any color you'd desire!
Two Toned Cabinets
Two toned cabinets play with the sense of "weight" and "balance". As we've mentioned already the kitchen is the heart of the home and at many times there can be more than one person. So, playing with the illusion of space, and creating putting lighter colors higher will make a room feel a little larger, and less stuffy! Not only does it make the room feel larger but it's just a great look!
Brass Fixtures
Brass is certainly all the rage! and will continue to stay that way. While trends certainly change, and most of the items we've been talking about are pretty classic and I do not expect them to change in the near future, Brass is one of those that will eventually fade. So with that being said, we're seeing it places that can be easily changed when that time comes! In Faucets and Fixtures, handles and lighting. We're also seeing Brass in sinks. This may not be the easiest change down the road, but it sure makes for a focal point in the kitchen, and a stunning one at that!
Glass Cabinet Doors
While we've seen a trend in the past several years to a minimalist style kitchen with no upper cabinets but open shelving, a more functional way to get the same vision but without all the up-keep and cleaning is glass front cabinets. They are many different styles so adding a little extra something special to the kitchen design is with-in reach with glass front cabinet doors!
So, as you see, the majority of what is to come in 2018 is all in Function, Clean lines, and Clean style! And I am in love with all of it! I'd be happy to answer any questions or help out in any way, just shoot me a quick message! Thanks for coming by!